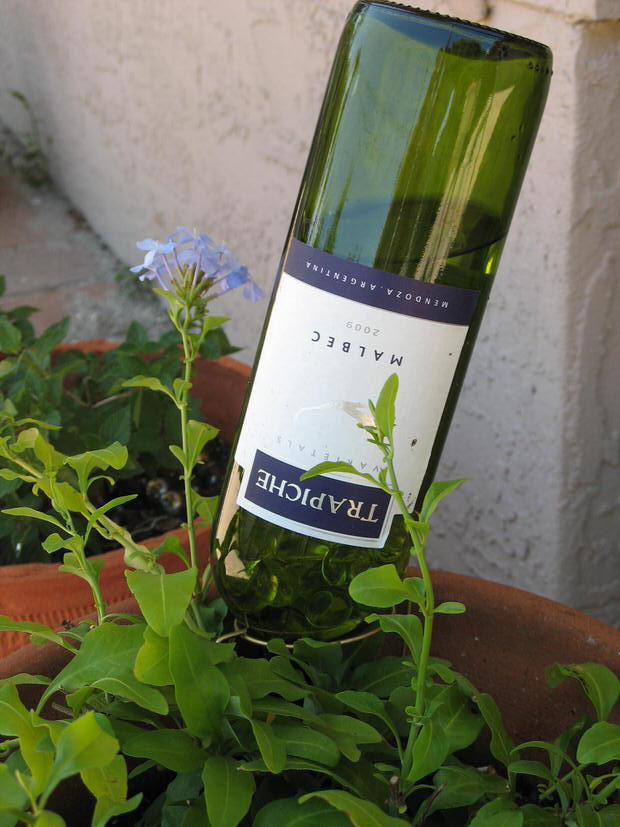 If you are like most of us, sometime this summer you might want to leave town for a few days. Really inconvenient from the point of view of your container plants, but hey, we're human! No need to hire the next door neighbors kid to creep into your back yard for thirty seconds each day to wet the soil surface and then run off to the mall. Here are some great DIY self watering ideas for your garden, so no matter how much fun you have on vaca, you don't come back to a plant funeral.
Number 1:
My personal fav – wine bottle watering. I have personally tested this one out folks. (I knew my love of red wine was good for something other than, well, my love of red wine!)
Rinse an empty wine bottle, (or other glass bottle with a narrow neck) and fill with water. Standing next to your planter, quickly turn over the bottle and push the neck down into the soil near the center of the planter. Make sure the neck is at least several inches underground. The water in the bottle will seep into the soil over several days, keeping the soil evenly moist. It works! Check out how 'Lettuce Share' added some extra modifications (photo above) and made it even better.
Number 2:
This one is better for a larger container or planter, or even a delicate plant in ground that needs a more constant water supply. Rinse an empty two liter soda bottle. Cut the neck off so that the top opening can be easily filled with a hose. Or cut off the bottom and place the bottle upside down. The cut open bottom now becomes the "neck". Punch or cut small holes randomly through the body of the bottle, as shown in the photo. Dig a hole big enough to bury the bottle in either the center of the planter, or right next to the root system of a plant that is in ground. Pack soil up to the open neck of the bottle. Fill the bottle with water from the top. The water will seep slowly through the holes in the bottle, into the soil. Being buried in the soil will help prevent too much evaporation. This method also promotes a deep root system.
Number 3:
Use a commercially bought "cheat"… You can either purchase the "as seen on TV" Aqua Globes, or something like it, or you can use the wine bottle technique above with pop bottles by getting yourselves Nanny Stakes to insert the neck into. These give the weaker plastic bottle the strength to be pushed deep enough into the soil.
So go ahead, get outta town! These DIY self watering ideas for your garden will keep it all green and happy for your return!